GREENTECH RECRUITMENT - Sales Manager - Mid Atlantic USA region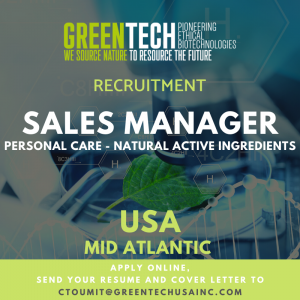 SALES MANAGER – Natural Active Ingredients – MID ATLANTIC
We are GREENTECH, We source nature to resource the future. We are biotech pioneers, we are scientists, we are explorers. Working across all continents, in all climates, in all the worlds' oceans, we source the best that nature has to offer, to the benefit of everyone: in cosmetics, healthcare, human and animal nutrition, agronomy and the environment. We operate worldwide to build sustainable subsidiaries that are founded on the principles of protecting biodiversity and human relationships. No nature, no future! Nature is a source of inspiration, source of information, the source of our technologies. Today, the world's leading cosmetics brands rely on our innovations and follow the ethical standards held by us for over 25 years.
Summary :
The successful candidate is charged with delivering budgeted revenue for the Personal Care territory in the Mid Atlantic USA region. Maintains and develops relationships at assigned customers and prospects, several of which are deemed regionally strategic by the business. Manages all aspects of the territory in support of business objectives for the assigned accounts. A strong emphasis is on R & D relationships that result in business development opportunities which will drive short- and long-term growth. The qualified candidate must be self-driven, highly motivated, entrepreneurial & goal-oriented with strong work ethics, self-discipline, time management skills and determination to generate value-based sales growth. This position has tremendous career growth opportunity as the company grows in the US with competitive compensation package.
Key responsibilities :
Maintain and develop relationships at assigned accounts and prospects. Provide superior customer service. Align customer needs with Greentech capabilities in order to yield sustainable value growth. 80% customer face time required.

Work with management to build effective short, medium, and long-term objectives for the assigned existing accounts. Develop and maintain an active customer project development business plan and communicate needs to achieve plan to management on agreed timetable.

Continuously monitor, analyze, and report on competitive activities, new business opportunities, Regulatory developments, customer perceptions, and market needs. Author,distribute, and log timely, comprehensive call reports for all pertinent customer and market activities.

Maintain accuracy of product customer forecasts, research and resolve any differences. Submit internal reports as required. Comply with annual budgeting activities. Travel is required, mostly local within the assigned territory plus occasional domestic and/or




international travel. Fulfill territory obligations in strict observance of travel and entertainment budget.
Requirements :
S./B.A. in Chemistry, Biochemistry, Biology or related science field. A minimum of 5 years of sales experience with the Personal Care ingredient industry. A strong track record of new business development through collaborative R & D project management.

Excellent communication skills in both oral and written English (French is a plus) with demonstrated abilities to interact with customers in order to establish and maintain excellent customer relationships.

Effectively self-manage daily activities with strong time and organizational management skills

Must be a self-starter and quick learner with strong self-discipline, reliability & people skills

Based in the Mid-Atlantic region

Demonstrate proficient use of computer skills in order to make impactful presentations, and report on business activities.
Interested in this position? Please apply online and send your resume and cover letter to ctoumit@greentechusainc.com