PHYTOBIOACTIVE, quintessence of Nature, maximum concentration of natural active ingredients
Skin & Mood Uplifter – Golden Age Keeper
Advanced biotechnology
Psychobiological approach
Tackles the root of skin aging (senescent "zombie" cells, dermal matrisome alteration)
Obtained by optimized fermentation of Sphingomonas sp.,a golden extremophilic microorganism which is able to survivein stressful environment due to a high metabolic plasticity.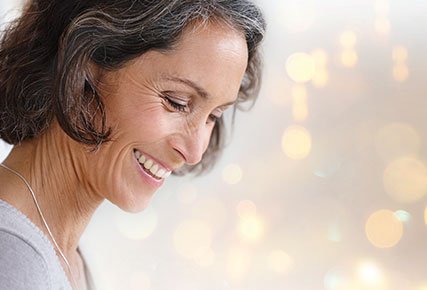 HEBELYS® is an advanced biotechnological active ingredient, designed using a systemic approach, to specifically address skin and emotional needs of the silver generation women and to support women after the age of 50 toward a positive aging, acting like a guardian of their golden age. HEBELYS® provides a sublimating effect on the physical impacts of skin aging and an uplifting effect on mood state.
HEBELYS® tackles the root of skin aging, by limiting oxidative stress and modulating skin senescence pathways (p21/p16) leading to the formation senescent "zombie" cells. HEBELYS® limits the release of SASP (senescence-associated secretory phenotype), of inflammatory factors more specifically, thus limiting the deleterious effects of "zombie" cells. Moreover, HEBELYS® rejuvenates dermal matrisome, promoting a healthier and rejuvenating cellular environment.
HEBELYS® offers a holistic care of mature skin, by acting on 4 physical impacts of aging (it smooths wrinkles, awakes dull & uneven skin tone, improves coarse skin texture and tightens saggy skin) and on 2 cognitive impacts (uplifts self-esteem and mood state). To sublimate skin, mood and age.
• Positive aging skin care
• Sublimating skin care for silver generation women
• Preventive care for women aged 50+
• Premium daily skin care
• Holistic anti-wrinkle skin care