PHYTOBIOACTIVE, quintessence of Nature, maximum concentration of natural active ingredients
Eyelid Lifter
Under-Eye Rejuvenator
Total Eye Contour Rejuvenation
(Upper & Lower Contours)
 
Multipathway Approach
(6 Interconnected pathways)
 
Highly Purified Gentiopicroside
(from sustainably harvested organic gentian roots)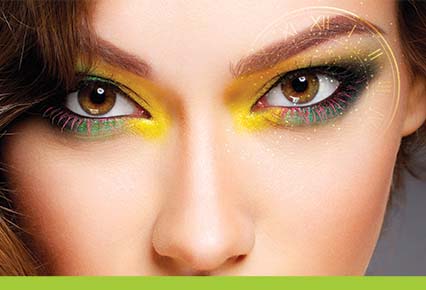 Highly titrated in gentiopicroside, sourced from organic wild yellow gentian roots (Gentiana lutea).
Sustainably and locally harvested in France by gentian-pickers trained in good harvesting practices, gentian roots are strictly selected by GREENTECH scientists based on their gentiopicroside content in order to achieve a highly titrated extract thanks to an advanced purification process.
MYRALYS is an organic COSMOS-certified natural active ingredient, highly purified in gentiopicroside, sourced from organic wild yellow gentian roots to rejuvenate the upper and lower eye contours.
To counteract eye contour aging, MYRALYS targets 6 interconnected biological pathways according to a multipathway approach.
It stimulates NRF2-mediated cell antioxidant response, to limit oxidative stress and oxidation reactions involved in premature skin aging and the formation of advanced glycation end-products (AGEs). MYRALYS also modulates 3 interrelated pathways: it limits inflammation and VEGF-A-mediated angiogenesis while it promotes lymphatic functions by stimulating VEGF-C release.
MYRALYS strongly reduces the formation of AGEs, by stimulating Glyoxalase-1 (major detoxifying enzyme which specifically neutralizes the highly reactive aldehydes involved in AGEs formation) and by fully neutralizing the UV-induced formation of CML (major AGE). Finally, MYRALYS reduces dermal matrix aging, by strongly stimulating collagen I synthesis and by protecting elastic fibers (elastin) from UV-induced degradation.
Clinically tested on volunteers with aged upper and lower eye contours, MYRALYS lifts droopy upper eyelids (smoother skin, less folds) and rejuvenates under-eye contour by reducing dark circles, eye bags and tear trough severity, with visible and significant results in just 14 days of use (and confirmed after 28 days). MYRALYS is potent natural solution to provide a total eye contour rejuvenation, for a time-defying look.
• Eye contour care products